How we remember a year is often extremely personal and varies from person to person. But every now and then there comes a year, which is just horrible for all of us. The negative consequences transcend all geographical boundaries and affect people irrespective of class, race and gender. 2020 has already been one of those years and we're only halfway through. Let's take a look at 20 reasons which have made 2020 a living hell for all of us-
1. Indonesian flood kills 66 people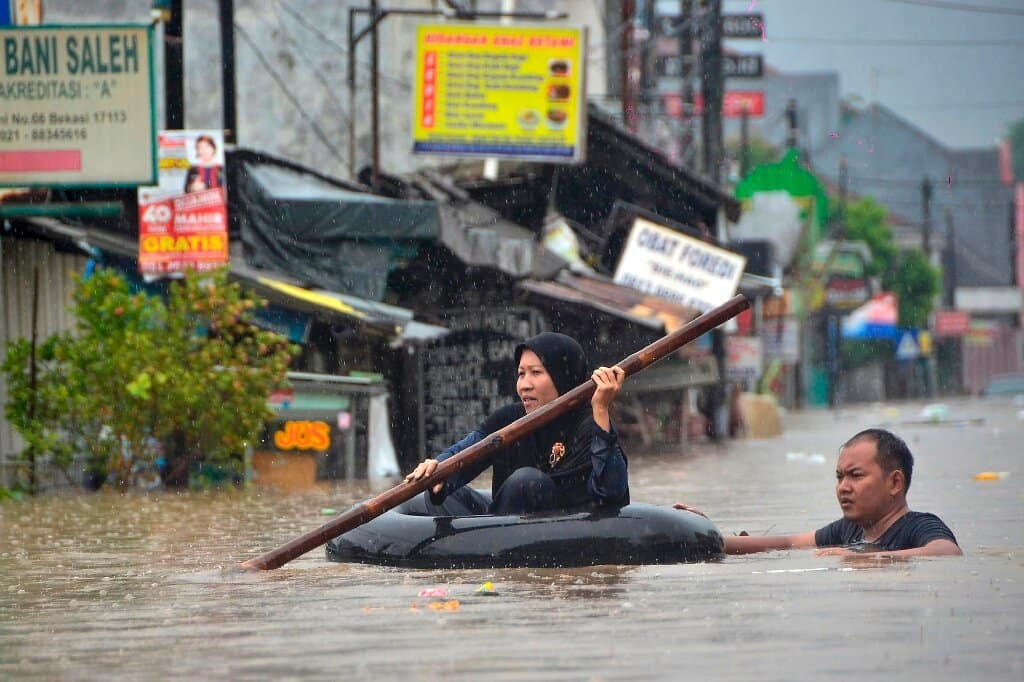 On New Year's Day 1st January 2020, the world woke up to the news of devastating floods in the capital city of Jakarta in Indonesia. Because of the low-lying nature of the city of Jakarta, it is no stranger to catastrophic floods. However, this year's flood was the worst since the 2007 flood, where 66 people were killed and around 60,000 people were displaced.
2. Australian Bush fire season 2019-20
While the term Bushfire "season" itself suggests that Bushfires in the Summer are a common occurrence in Australia. But the Bushfire season which started early in late 2019, showed no mercy whatsoever becoming one of the most devastating bushfire seasons in recent memory. As of 9th March, it had burnt over 18.6 acres of land, destroyed almost over 5000 buildings and killed at least 34 people.
3. Philippines Taal Volcano Eruption
On January 12, 2020, the Taal Volcano in Batangas, Philippines erupted spewing ash cloud over 100 km away, disrupting local life in Calabarzon, Metro Manila and Luzon by suspending flights, school classes and office schedule. This also resulted in numerous earthquakes which caused cracks and fissures to open up in the surface. A total of 39 people died as a result of this eruption even though only one person died directly because of the explosion.
4. Cyclone Amphan in India and Bangladesh
In May 2020, the super cyclonic storm named Amphan wreaked havoc in parts of India and Bangladesh. It was the first super cyclonic storm to form in the Indian Ocean since the 1999 Odisha Cyclone. It recorded wind speeds of 155 kmph when it hit parts of West Bengal. The storm destroyed everything in its path mainly in coastal districts of East Midnapur, North 24 Parganas, South 24 Parganas, Kolkata, Hooghly and Howrah. It heavily affected Electricity supply and cellular networks and also caused significant damage in Odisha and Bangladesh. Causing over US$13B in damages it is the costliest cyclone ever to originate in the North Indian Ocean.
5. Plane crashes in Pakistan and Iran
If the wrath of nature was not enough, there were tragic accidents that grabbed the headlines like a Pakistan Airlines flight crashing in Karachi killing 99 people onboard. Miraculously 2 people survived the crash. Another controversial crash happened when Iran "unintentionally" brought down a Ukrainian commercial plane Ukraine International Airlines Flight 752 mistaking is a "threat" in the ongoing tension between Iran and the USA. All 176 innocent passengers on board lost their lives in the crash.
6. Earthquakes in Turkey, Mexico and Jamaica
Earthquakes have always been one of the most catastrophic natural calamities possible as they pose a severe threat to human lives and property. This year there have already been so many earthquakes of significant magnitude all over the world. One of the most devastating quakes struck Turkey on January 24 this year, registering at 6.7 Richter scale and killing at least 41 people. More recently on June 23, Mexico experienced a 7.4 magnitude earthquake which resulted in a death toll 0f 10. Apart from these Jamaica, Iran, Russia, New Zealand all have witnessed earthquakes of significant magnitude this year.
7. Locust swarms wreck havoc in Africa and Asia
Now this one is certainly an odd one if not outright bizarre. We do not necessarily visualize locusts as a natural disaster. But this is one of those years where the worst can happen and it did. What is being touted as the worst pest attack in 26 years, hundreds of billions of hungry desert locusts originating from East Africa and then moving through the Middle-East and Pakistan have now entered India. Locusts are known to be one of the most dangerous migratory pests capable of devouring literally whatever vegetation lay in their path and threatening the food security of millions. The Indian states of Rajasthan, Madhya Pradesh, Uttar Pradesh, Gujarat and Maharashtra have already seen the wrath of the locusts where crops have been damaged by the pests and 12 other states have been put on High Alert already.
8. Death of notable Bollywood celebrities
2020 has already been a year of stars leaving us unexpectedly. The legendary actor Rishi Kapoor passed away at age 67. Another stellar actor Irrfan Khan, who has been India's prime representative at Hollywood, succumbed to cancer at the age of 53. But probably the most unfortunate amongst these deaths was the alleged suicide of the 34 yr old actor Sushant Singh Rajput whose body was found hanging at his Bandra residence. While some theories suggest that this is not a case of suicide, it is widely believed that Sushant was in depression and facing problems adjusting in this industry which can be a tough place for outsiders trying to make a name for themselves.
9. Helicopter crash kills Kobe Bryant and his teenage daughter
On Sunday morning, 26 January 2020, a global sporting icon and Basketball legend Kobe Bryant and his 13-year-old daughter Gianna Maria-Onore Bryant were part of a helicopter crash that killed them along with 7 other people. One of the all-time greats of the N.B.A., Kobe was not only famous for his exploits on the court but was also universally loved for the person he was off the court.
10. Killing of George Floyd
On May 25, 2020, in a shameless display of police brutality, a black man named George Floyd was killed during an arrest by a white police officer named Derek Chauvin. The security cameras showed that the accused officer kneeling on George's neck for eight minutes straight despite his repeated pleas of not being able to breathe. During this time two officers further restrained Floyd and another fourth officer stopped anybody from intervening. The onlookers also kept requesting the officer Chauvin to let go of Floyd's neck, which he did not do until the medics arrived. The next day after multiple videos were released of the incident, it sparked a nationwide and then a global protest against police brutality and police discrimination against people of colour. The positive is that people across the globe, including many celebrities, have come forward in support of Floyd and the Black Lives Matter movement.
11. Assam Floods
As we speak, Assam is going through one of the worst flood situations in recent history. With 25 of the 33 districts of Assam heavily hit, 24 people have already died and over 1.3 million people have been heavily affected. The Brahmaputra river in Guwahati is flowing 20 cms above the danger level as almost 27,500 people have been forced to take shelter in 273 relief camps in 12 districts. With the floods coinciding with the deadly coronavirus outbreak, the Assam government has got a lot on their hands. Another sad news is that the wildlife at Kaziranga, Orong , Pobitora and Manas national park has also been severely affected.
12. The Covid-19 Pandemic
This is a no brainer and probably a bigger reason than the rest of the 19 reasons combined on why 2020 sucks. Taken out straight from a nightmare of a Sci-fi movie ( Contagion. We're looking at you!), one tiny virus cripples whole humanity at an unprecedented scale, infects millions across the globe, kills thousands and leaving barely any country on this planet unaffected. We are the first-time witnesses of epic scale "lockdowns", "social distancing" and the widespread prevalence of masks and sanitizers. Since the first patient died in China on 11th January of Covid-19, over 5.8 million cases have been confirmed and the deadly virus has caused half a million deaths. Coronavirus has simply changed the world as we know it and we can only look forward to the "New Normal" now.
13. Gas plant explosion in Lagos
On 15 March 2020 a Sunday morning, the Nigerian capital of Lagos was witness to a thunderous explosion in a Gas processing plant that killed 15 people and destroyed around 50 buildings. Countless lorries, cars and motorbikes were also torched in the resulting fire caused by the explosion. The shocking images of utter destruction and ruins were shown across the world. The explosion was so strong that it was felt even 3 km away.
14. Uttarakhand Forest Fire
In late May, Uttarakhand witnessed catastrophic forest fires for days as nearly 50 acres of land were destroyed at 46 different sites. This tragedy came within 10 days of the Amphan Cyclone landfall. While there was a lot of false circulations of many old and foreign pictures being passed off as the current visuals in social media, it cannot be denied that the fires posed a considerable threat to the local flora and fauna, as well as the human civilization.
15. Economic recession
One of the main curses of the Covid-19 outbreak was inevitably a global recession unlike any the world has seen before. Because of the strict lockdown measures implemented throughout the world, the situation in the origin country China and general fear and panic amongst the common public preventing them from taking bold financial decisions means that we are seeing a financial crisis even worse than the 2008 one. Employment rates are also at an all-time low in many parts of the world.
16. Kashmir Avalanche
In mid-January, both the Indian and Pakistan occupied side of Kashmir, Pakistan and Afghanistan saw major incidents of avalanches and floods. The Guardian reported that over 130 people had been left dead because of these disasters. Houses collapsed under the pressure of thick snow, entire families were buried dead and countless people were left missing in the wake of these incidents.
17. Postponement of the Olympics
When it comes to international sporting events, it doesn't get any bigger than the Olympic Games. 4 years of hard work and preparation by thousands of athletes meant nothing this year as the Tokyo Olympics were postponed to 2021. It left countless sports fans around the world disappointed, to say the least. It was not the only sporting event that was cancelled this year as numerous tournaments across various sports around the world were postponed indefinitely including the much-beloved IPL in India. Many Cricket fans were devastated as they did not get to see their favourite cricketers don their respective franchise jerseys.
18. Tornadoes in April
Tornadoes are an incredible force of nature capable of causing incredible damage to human lives and property. Forbes reported that April 2020 was the worst month of tornadoes since March 2012. Persistent waves of severe thunderstorms made this the most active April for severe weather since the historic outbreaks of 2011, and the deadliest month for tornadoes since 2013. A total of 40 people were killed in 19 different tornadoes in April 2020, which was the highest monthly death toll since May 2013.
19. Vizag Gas leak
On 7th May early morning, an industrial accident in at the LG Polymers chemical plant on the outskirts of Vishakhapatnam, caused poisonous gas vapour to leak and spread over an area of 3 km radius. This resulted in the death of at least 11 people with thousands of people being taken ill from the nearby area and villages. This man-made disaster came at a time when the Coronavirus pandemic was already rampant in parts of India, adding to the woes of common people.
20. Thailand Mall Shooting
In a spine chilling incident of psychopathic behaviour, one Thai soldier opened fire at a shopping centre after stealing weapons from his own colonel at a military camp and killing him. This incident happened in the northeastern Nakhon Ratchasima province of Thailand, known as Korat. Later he proceeded to the Terminal 21 shopping centre and opened fire on innocent civilians. What's more shocking is that the gunman live-streamed part of that rampage and used Facebook to post pictures of himself with guns with statuses like, "It is time to get excited" and "Nobody can avoid death." This was the deadliest public mass shooting in the history of Thailand with 30 deaths and 56 injured.
All of this has made 2020 an utter nightmare already and we are just starting July. Let's just hope that the latter half of the year is slightly better than the first. Just don't get your hopes too high!!
(Visited 91 times, 1 visits today)